Home Décor
20 Modern Kitchen Designs to Update Your Kitchen in 2022
There is no greater hope in human life than survival. At the same time, it is important to live well. With that in mind, every content on the website is written so that a person can get all the information from here to start his life to make beautifully.

According to that, Home Decor is one of the topics. It is also a part of life. Read carefully Details of Home Decor related article
20 Modern Kitchen Designs to Update Your Kitchen in 2022
Welcome to the world of modern kitchen designs in 2022. These kitchen designs move beyond the styles of old and explore an exciting range of new ideas.
Newer kitchen designs focus on functionality for space versatility and comfort. And stress the importance of mood and entertainment.
Your home is the hub of your life and everything happens there. If you're able to work from home, some modern kitchen designs even include workstations.
Not to mention, customers are opting for quieter appliances and new technology.
From minimalist to mid-century and farmhouse to luxury, kitchen design ideas come in all shapes and sizes. Modern solutions keep ordinary messes hidden.
And small kitchen spaces are more functional with tall, compact appliances.
20 Modern Kitchen Design Ideas
From modern cabinets and appliances to spacious designs, we bring you inspirational modern kitchen design ideas for 2022.
1. Simple Modern Kitchen Designs
Countertops and backsplashes made from similar materials can characterize your kitchen. More importantly, it keeps the kitchen minimal, but elegant.
Black marble on the countertop and backsplash creates a uniform interior kitchen design. In other words, matching your countertops and backsplashes simplifies the design process, creating a seamless finish.
2. Modern Kitchen Cabinet Design
First, this kitchen features golden countertops paired with modern black cabinets – a stunning combination. Metal is an unexpected kitchen countertop material for a kitchen.
That said, together they create a stylish modern kitchen with a contemporary design. Above all, the texture and detail of the cabinets nicely compliments the smooth metal countertops.
3. U-Shaped Kitchen Design
Nothing makes for openness like white and windows. This timeless u-shaped design is white with black accents and stainless steel appliances. There's an abundance of storage with all-around cabinets and drawers. 
The island seats four and stands out with a black base and black-bottomed chairs. Then, there's the brass-hooded stove popping against the white and black theme here. And finally, the windows let in plenty of natural light which expands the kitchen even more.
4. Black Library Kitchen
This multi-functional modern kitchen design serves as a library and a kitchen. First, you have the dramatic wooden table standing out in the kitchen. And then, there's the island behind that, providing ample white marble counter space.
Finally, you get to the wall of this modern kitchen and there's lots of natural lighting from the windows. The sliding ladder adds to the interior kitchen design, allowing you to reach the bookshelves.
5. Compact and Small Modern Kitchen Designs
When there's limited space, the design often has to conform to a small kitchen layout.  Therefore, this kitchen combines a compact cooktop and range combination that offers chef-level function. There's a tall fridge, modern kitchen cabinets, wood backsplash, and wooden shelves. 
The entire set-up finished with stainless steel appliances and white countertop. This is an inspirational idea for cooking enthusiasts who have a house where space is tight.
6. Industrial Material Kitchen Design
Without a doubt, the concrete island is the main feature in this luxury modern kitchen design. Angled around a central point, the island features both a cook top and a sink. And a ledge that goes all the way around the outer edge.
This is a handy place for large gatherings to set down their glass or cup in the kitchen. The sizable island pairs with sleek modern cabinets and camouflaged appliances. In other words, it's the ideal simple modern kitchen design; combining concrete with shiny, dramatic elements.
7. Mid-Century Modern Kitchen Designs
This is a modern kitchen design set against a classical Trompe l'oeil wallpaper. It's a combination of mixed materials and sleek modern cabinets. And the dining chairs have an old fashioned cafe silhouette.
Then, the white-topped island is clad in a mirrored finish around the sides. And the section with the cooktop is made from different materials. Finally, the mid-century lighting and ventilation pendants hang over the cooktop and dining table. Together, it's a very unexpected, yet cool kitchen that stands out.
8. Low Profile Modern Kitchen
Many kitchen designs fill the walls to the ceiling to provide as much storage as possible. But, 2022 is trending with other stylish options. This is a spacious and functional modern kitchen island with a low profile.
The space is open on the sides with a wide, extending countertop. Both the sink and the cooktop are exposed on the open countertop. The whole space feels unconfined and is an ideal scenario if you have windows with a killer view outside.
9. Small Modern Kitchen
You might think a small kitchen precludes having any kind of island. But, this example shows that it is indeed possible with the right design. It's not a full island, but it is a small one that can serve as dining or counter space.
It's anchored by a cabinet that adds extra storage. And along the wall you'll find all the necessary appliances and cabinets that also offer storage.
10. White and Bright Modern Kitchen Cabinet Design
Some say that white kitchens are waning in popularity but they don't seem to be falling out of favor any time soon. The bright, white modern kitchen cabinets are sleek with no clear handles.
And then, the bright cabinets in the corner magically contrast the entire kitchen. Finally, the tile backsplash resembles riveted steel, adding an interesting effect to the kitchen.
11. Spacious Island Kitchen Design
A square island is a complimentary option in this modern country style kitchen. The shape evokes a traditional country kitchen set up. And then, the big porcelain country sink adds style and character to this modern kitchen. Country style is still very popular for families as it is homey and welcoming.
12. Minimal Kitchen Cabinet Design
True minimalists will love this kitchen because it is sleek and clean. There's a modern finish on the island. And the cabinets pair with a wood accent on the wall.
The inset island offers shelves for storage. Beyond that, the only visible kitchen elements are the cooktop and the sink. This modern kitchen design is stylish with it hidden elements and hardware.
13. Angular Kitchen Design
This modern kitchen features clean, angular lines. The large handles accent the off white cabinetry. And the upper wall cabinets liven up the design with textured glass.
A central island includes a modern kitchen sink and a breakfast bar on the opposite side. Granite countertops are throughout the kitchen and on the wall as a backsplash. This is a clean kitchen design that is a versatile starting point for any custom design.
14. Luxury Modern Kitchen Designs
Not every kitchen needs all matching cabinets or a single countertop material. Mixing materials for countertops, backsplashes, and cabinets is popular. And this luxury modern kitchen is a good example of how to do it.
Gray cabinets and wall units pair with a white countertop. The backsplash is stone and then the island extension finishes with a wooden top. Textured glass-front cabinets line the walls with a black finish. And finally, the modern lighting fixtures bring it all together.
15. Natural Wooden Kitchen
Most kitchen designs don't feature much natural wood, but it's a very popular material. This modern kitchen combines natural wood cabinetry and partial stone countertops.
The two natural materials work well together and create a contemporary style kitchen. Modern appliances are stainless steel. And the island provides a sleek cooktop and a modern kitchen sink with a retractable faucet. This kitchen offers plenty of space, storage, and is family-friendly.
16. Country Kitchen Design
It might have some farmhouse elements, but this kitchen is a bit more country than that. The natural wood cabinets have traditional hardware that coordinates with all the elements in the kitchen.
A clever idea here is chalkboard on some cabinets and the stove hood which is attractive. Plenty of pegs and racks offer storage along the wall. And a hanging pot rack makes the island a real centerpiece.
17. The Simple Kitchen
Traditional style still has its place and many people prefer it. This kitchen features dark natural wood and focuses on a stunning range in mixed metals.
The straightforward countertop matches nicely. And the entire space is unfussy and functional. This is a good option if you aren't into modern designs and still love to cook. The overall design is very versatile and works with many kitchen layouts.
18. Modern Farmhouse Kitchen Design
This farmhouse kitchen is inviting with its high ceilings and exposed beams. It's exactly what you'd expect in a 2022 modern farmhouse kitchen design. It's an 'L' shaped kitchen with marble, multicolored floor. There's plenty of storage with drawers and cabinets for all your kitchen supplies.
The island provides ample seating and marble counter space for large families. And the white backsplash makes the stainless steel appliances stand out in this modern farmhouse kitchen design.
19. Casual Contemporary Space
A contemporary flair mixes with a casual feeling in this wood kitchen. The light wooden cabinetry and the green sections add a splash of earthy color.
The darker green wood under the cabinets is the backsplash. The lighted cabinets display shelving and brighten the whole area. It's popular to highlight your favorite tableware and serving pieces. Dark countertops uniquely contrast the bright cabinets and bring the space together nicely.
20. The Architectural Kitchen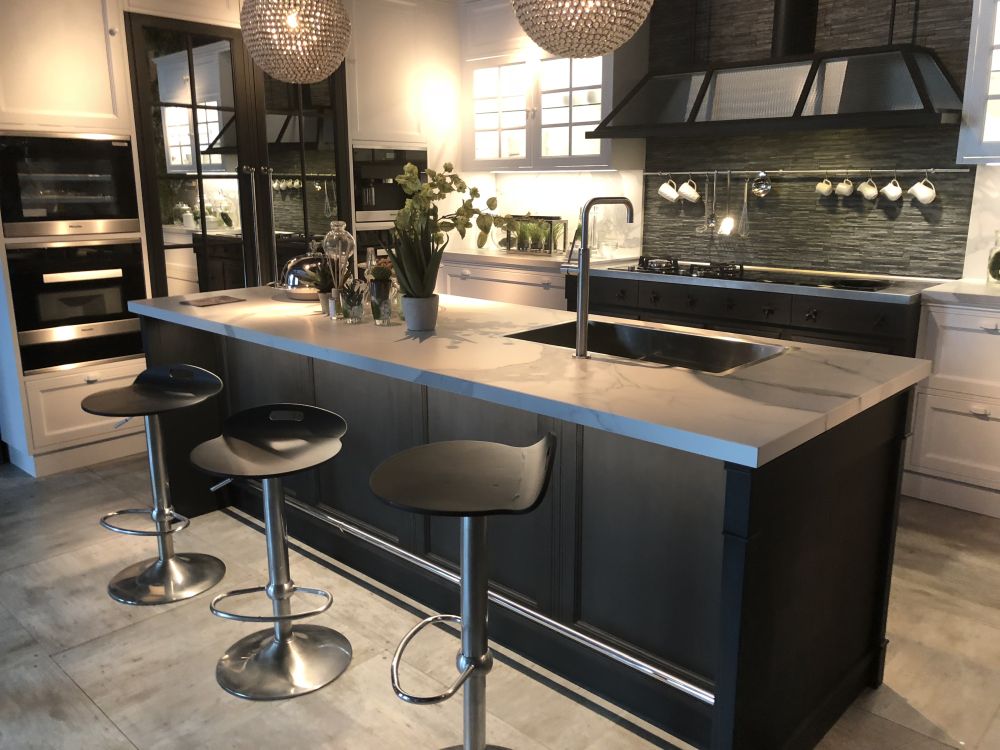 Adding architectural details to a room is popular, especially in bathrooms. Turns out it works great in kitchens too. Functional and stylish, this kitchen has a custom exhaust fan and French doors.
A mix of black and white cabinets pair with the marble countertops and barstools. The backsplash is textured with stone, reaching all the way to the ceiling.
Modern Kitchen Designs in 2022
Kitchens in 2022 are led by the necessity to be comfortable, functional, and quieter. From library kitchens to compact spaces, more people are cooking from home. And need sufficient storage and compatibility. Each of these kitchens brings inspiration and fresh creative ideas for your own home.
If you're renovating or building a new kitchen, you can create your dream kitchen from scratch. If you're refreshing your kitchen, there's plenty of ideas here for a new materials. Pick the elements that appeal to you — and enjoy the kitchen!
Did you like this article?
Share it on any of the following social media channels below to give us your vote. Your feedback helps us improve.
Other related Technologies ideas you might enjoy