Home Décor
25 Christmas Window Decorations for Every Home
There is no greater hope in human life than survival. At the same time, it is important to live well. With that in mind, every content on the website is written so that a person can get all the information from here to start his life to make beautifully.

According to that, Home Decor is one of the topics. It is also a part of life. Read carefully Details
25 Christmas Window Decorations for Every Home
Christmas is just that time of year when no one minds if you completely deck out your home head to foot, corner to corner. In fact, it brings up some interesting decorating tips and ideas for places that you might not have thought to decorate.
For example, windows. They are pretty normal, curtain clad for the year and then we get to Christmas and windows get a makeover.
It turns out there are many options for Christmas window decor that you probably didn't know existed.
Beautiful Christmas Window Decoration Ideas
Here are just 25 ideas that are perfect Christmas window decorating options for any home.
Hang evergreen wreaths and garlands on the outside
Let's start outside. You've probably seen it in the movies or maybe even in your own neighborhood. A house that had simple evergreen wreaths and garlands on the exterior just seems to ooze nostalgic Christmastime. Get the fake evergreens and you can hang them year after year.
Make the window boxes look festive
Do you have window boxes on your home? Don't leave them bare-bones for Christmas. Fill those babies up with evergreen garlands, red berries and maybe even a giant ornament or a deer. They'll be easy to put together and then easy to put away after the new year which means happiness for everyone.
Draw all sorts of cute things using chalk markers
With one magic tool, you can use your artistic hand to decorate your windows for Christmas. Water-based chalk markers wipe right off the glass with a pet paper towel. So draw away all the snowflakes and stars and Christmasy phrases you desire. You can even let the kids get in on this one!
Hang some wreaths from the curtain rods
If your yard is already full of lights and Santas, you'll have to take your window decor inside. Use some ribbon to hang wreaths from the curtain rods on the inside of the window. Because you deserve pretty windows for Christmas too.
Put a big Christmas wreath on every window
Want to make a big impression on any room? Buy up the biggest wreath you can find that will fit on your window and use some Christmasy ribbon to make her pop. Perfect for rooms like bathrooms and kitchens where there isn't much room for decorating.
Or hang a bunch of cute and tiny wreaths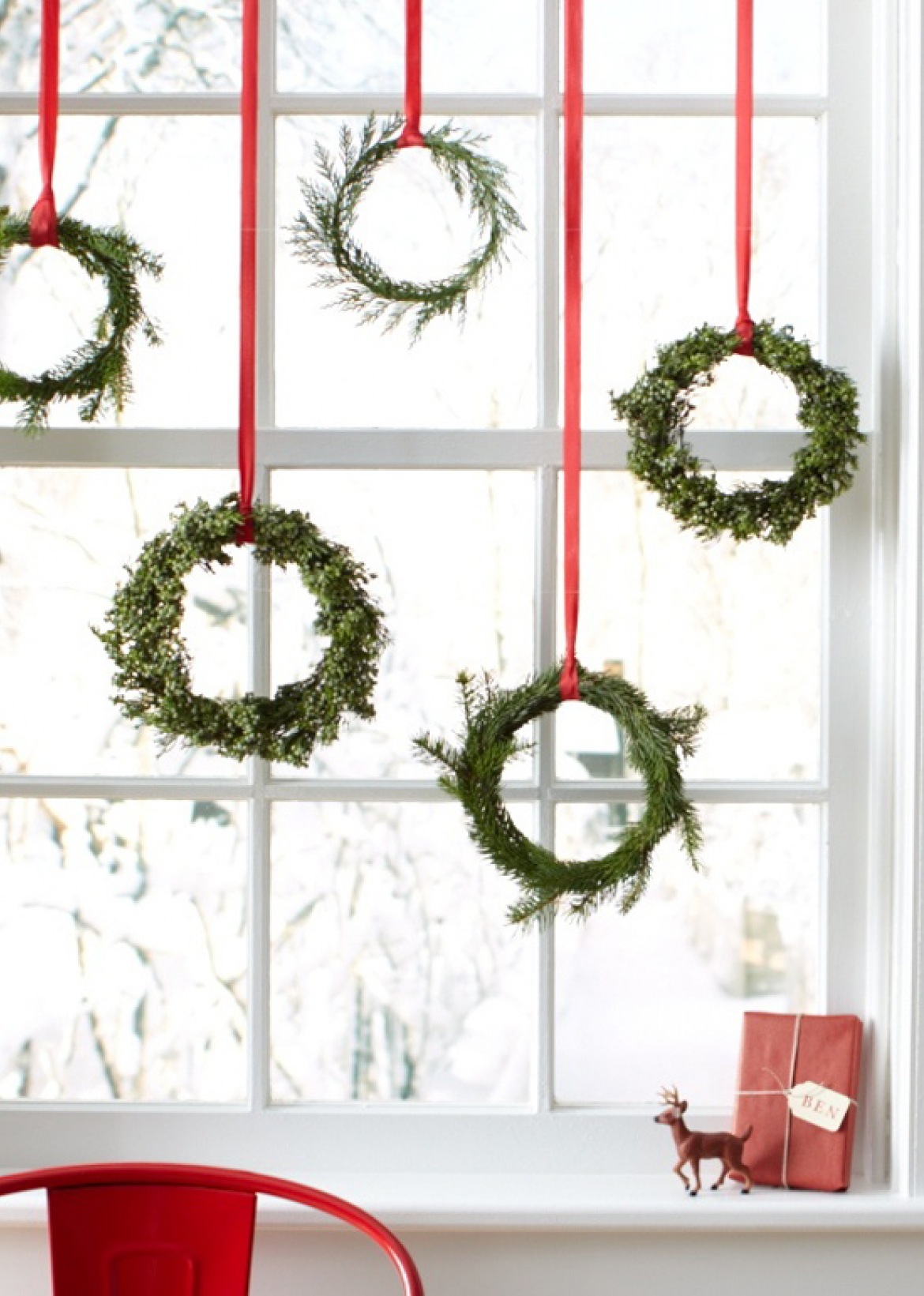 On the flip side, a gathering of small wreaths can add a very simple Scandinavian touch to your windows. Whether you use lights or bows or just leave them plain, the greenery addition will look so cozy against a white snowy background out your window.
Decorate the windowsill with candles
Speaking of Scandinavian style, what do you do when you're sticking to neutral tones and don't want to use wreaths? Opt for candles. A smattering of pillar LED candles will give your home a warm glow, both indoors and out.
Turn extra Christmas tree ornaments into window decorations
If you're looking to make Christmas window decorations out of things you already have, consider stealing some ornaments from the Christmas tree box and hanging them from the curtain rods. Or make salt dough ornaments that smell like cinnamon in whatever shapes you have Christmas cookie cutters for.
Put up a branch and make it festive
Or, you could skip all the stirring and baking and just hang your wonderfully festive cookie cutters. Choose a theme, get a branch from your yard and let them dangle in your window. They will certainly set a whimsical tone for the rest of your Christmas decor.
Spell it out with cardboard letters
Many times, our Christmas decor tells a story. It might be nostalgic memories or maybe your life's priorities. Whatever the case, spell it out with some white wood or paper letters on your windows this year. It will make your room feel just a little more complete.
Hang a bunch of paper garlands in front of the windows
Maybe you're hesitant about all the prickly, needle-spreading, evergreen garlands. Strew your windows with paper garlands instead! Just pick your favorite holiday patterned paper and spend an evening cutting and stringing and hanging with your family.
Make them look frosty with coffee filter snowflakes
Of course we can't forget the snowflakes made from coffee filters. These are classic kids' craft for Christmas. So gather your little ones around and let them make plenty to fill up all the windows of your home. They'll be so proud to show off their creations to the world.
Dangle jingle bells and wood slices from a branch
Garlands can also be made from various items that you can find around the house, like jingle bells and various other things. You can hang a bunch of them with some twine from a tree branch and make a rustic window garland. You could also use wood slices and decorate them using acrylic paint.
Turn the window frames into decorations
Old window frames are not exactly the first thing that comes to mind when talking about window decorations but that's actually what makes this such an interesting idea. You can in fact repurpose these frames and display them in a cool way, like in front of a window for example so the light goes through and only the outline is visible. Check out funkyjunkinteriors for a bit more details.
Make a colorful garland out of Christmas baubles
Another really cool idea is to use a bunch of classic Christmas tree ornaments to make a colorful and eye-catching garland that you can display in front of the window. You can also add some lights if you want it to be more visible from the outside but we really like the simple look of the one featured on studiodiy. Now you actually have a use for all those old ornaments that you've been wanting to replace.
Make some white glue snowflakes for the windows
Snowflakes could look really cool on the windows when it's cold and wintery outside. You can make wonderful snowflakes out of white glue. Print out some templates and lay a sheet of wax paper over them.
Tape the edges together so the sheets don't move and then apply white glue inside the outline of the snowflakes making sure to get thick lines. Let the glue dry and them peel off the paper. More details can be found on firstpalette.
Add some light into a paper lantern star
A paper star could look amazing in front of the window and you could put lights inside to make it glow. The first step is to make a paper lantern which you can also purchase to make the project easier. You can also come up with multiple designs for this project.
It doesn't have to be a star so if you prefer something simpler or different go ahead and make this project unique. Check out liagriffith if you want to find out more about this.
Decorate with pine cones and other natural things
Window boxes are also lovely and interesting in a lot of different ways. You can make simple boxes out of wood or use existing ones if you have any and you can fill them with lots of different things. For a Christmas-themed look try using pinecones, berries, evergreen clippings and things around those lines. Check out gardenista for more details.
Hang a stylish tassel garland over the blinds
Tassel garlands are very easy to make which is exactly what makes them such great decorations. You can hang one in front of the window over the blinds just as a way to add a bit of color and texture to the décor. Alternatively, you can also make the tassel garland visible from the outside. Check out francoisetmoi to find out how you can make one from scratch.
Turn vintage doilies into boho window decorations
Vintage doilies could look like snowflakes, with a vintage and boho touch of course. Take a few of them and hang them in front of a window at different heights and mix and match the designs for some diversity. It's a very cool idea that we found on dosfamily.
Add fake frost around the frame using epsom salt
We don't really get frosted windows these days, with insulation being so efficient and all. Still, that looks so cozy when you cool out a window with frost around the frame and you get to feel warm and comfy inside while it's cold and winter outside. You can add decorative frost to your windows using Epsom salt if you want to. Check out confessionsofanover-workedmom to find out how.
Make your own snow globes from scratch
Snow globes are also lovely decorations, whether you display them on the windowsill, on a shelf, or the mantel. You can make your own snow globes from scratch using things like glass jars with lids, bottlebrush trees, tiny decorations and ornaments and also some fake snow (salt could also work). You can find more details about this on tidymom.
Decorate the windowsills on the outside of the house
Another idea is to also decorate the outside of the windows. You could have some Christmas garlands displayed on the windowsills on the exterior so you can see them from inside and so they also add curb appeal to the house. You can use basic evergreen garlands and add a few extra ornaments to them like berries, bows and more greenery. Check out southerncharmwreaths for more inspiration.
Hang wreaths with suction cups
Of course, we can't forget about the wreath. You can hang a few of them in front of the windows and without messing up the trim. To avoid making holes into the frame or the wall itself you can use suction hooks.
Apply them to the windows making sure they're nice and secure and then gently place the wreath on the hook. Then take some ribbon, loop it around the wreath and tape it onto the windowsill at the top. It's a cool idea that comes from lifeonsummerhill.
Turn an old window into a mantel decoration
Nobody said that you can only decorate the windows that are actually installed into the walls. This for instance is a window that has been turned into a decoration for the fireplace mantel. It has a red frame, frost around the panels and it's decorated with a hanging branch and a bunch of red and white Christmas ornaments. Check it out on inmyownstyle.
Did you like this article?
Share it on any of the following social media channels below to give us your vote. Your feedback helps us improve.
Other related Technologies ideas you might enjoy